Do you want to find your voice?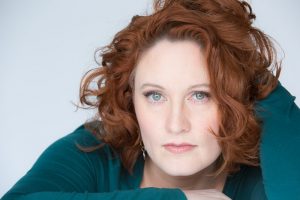 Do you ever struggle to make the vocal sounds you hear on the radio or in school choir?
Do you marvel at how actor-singers make it look so easy in the music-theatre stage productions you attend?
Do you stop in your tracks when you hear a beautiful voice singing a famous Italian song pop up on TV? (You know, for that commercial advertising the latest & fastest car on the market?)
Cara would love to help you find your voice and learn how to make all these sounds besides! A vocalist and voice teacher based in the greater Washington, DC area, she sings in a wide variety of styles and has performed in many of the nation's most elite music venues. She has specifically trained in classical, opera, music theatre, pop, rock, country, and folk.
Every year Cara attends several continuing-education training opportunities from some of the globe's finest specialists in their vocal fields so she can keep offering her students the very best and most current training available in voice instruction and performance. Her students have placed in state, regional, and national competitions and have been featured as soloists in numerous venues. LaVoce Studios' singers continue to be frequently heard as leads and supporting roles in middle-school & high-school musicals, community theatre, and national Broadway workshops, camps, & other venues. Former students have gone on to Eastman School of Music & Berklee College of Music, among other schools.
A Leading Vocal Music Studio in Washington, DC
Performance Opportunities
It has been an extraordinary year in 2016-2017: over 50 students were a part of LaVoce Studios this past year in 3 different locations: Annandale (home studio), Springfield's Music & Arts, and Episcopal High School.
Here is a small sampling of the good work that happened this year:
Twenty-three students participated in recording videos in January for the national Hal Leonard online vocal opportunity; this is the highest participation rate we've ever experienced. And if this wasn't already enough, HL chose one national second-place winner and three national finalists from LaVoce Studios this year! Congratulations again to all!
Five students participated in the first-ever Northern Virginia Music Teachers Association's Judged Recital in teen music theatre in Arlington, VA in November. Not only did all the students perform beautifully, but 2 LaVoce students were named among the 5 winners overall—fantastic job, everyone!
Sixteen students participated in the Springfield-based National Federation of Music Clubs' Spring Music Festival this past March. This was also a first for LaVoce Studios, and once again the students blew us all away; not a single student received lower than a superior or excellent rating, and in fact, many students received double superiors. (I was so proud of them all I could hardly hold it together.)
Thirteen students participated in the state (Virginia) National Association of Teachers of Singing (NATS) student auditions last February, and 5 students qualified to go on to the Regional level. (One second- place winner and four Honors designations at state—way to go to all of you!)
Four students chose to go on to the multi-state Regional NATS in Chapel Hill, NC, in March; one student won first in category and first in her sing-off competition immediately following. As this qualified her for the final round of YouTube-only competition to compete for a chance to sing at Nationals, she submitted her videos and was selected—for the 2nd year in a row—as one of only 14 high-school females in the nation to compete at the NATS national music theatre student auditions in Boulder, CO, this last July. Congratulations for the second time!
Our first-ever Duets Performance recital—performed for the residents of Sunrise Retirement Home in Springfield, VA in May—was a smashing success! Students from multiple LaVoce studio locations loved the opportunity to meet each other and entertain the audience together. We will definitely be having a reprise of this event this upcoming year.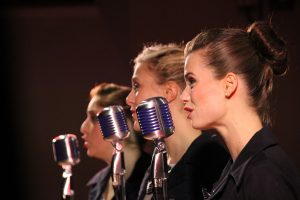 And the residents of the Hermitage in Alexandria enjoyed our annual December 2016 holiday service outreach performance—kudos to all!
In addition to all of the above, there were loads of LaVoce Studios students who performed ensemble, supporting, and leading roles in their respective school musicals AND in various community-theatre and church-theatre opportunities! There were students who performed in choirs this past year that featured world premieres of new music, students who led or participated in their churches' music choirs & bands, and students who took up new instruments just for fun! There were school competition trips to Disneyworld (where students swept the awards), overseas performance opportunities —it was dizzying! At one point this summer our studio had 5 current or former students featured in 3 different musicals or performance venues during the same weekend locally—uff da! (I love having these kinds of scheduling challenges, by the way—bring it on!)
For perspective, the LaVoce Studios students hail from more than 20 different school settings and range in age from 8 years young to seasoned senior citizens.
Students took amazing risks this past year in their performance choices, and we saw unprecedented growth happening in students all across the board—it was so thrilling to be a part of this!This concludes our "quick highlights reel" of an incredibly packed, wonderful, and amazing year for LaVoce Studios. Sometimes I still say to my husband, after a particularly stunning performance or lesson, "I work with such extraordinarily-talented kids!" My jaw still drops at what all of these students can accomplish and at the inspiring young artists they continue to become.
To see the singers in action, please enjoy this YouTube channel of 23 different vocalists of all ages singing 2 songs each—-in a wide variety of styles—-for an event this past January: https://lavocestudios.com/student-performances-hal-leonard-competition
Frustrated with DC traffic? Last-minute scheduling change at work means that no one can drive your child to their lesson? Not a problem—-online individual & group lessons are available at no extra charge. Students can choose to take their weekly lesson online (live) with me for any session they wish.
As an additional service, one live online group voice class is scheduled every 4-6 weeks, so all students are encouraged to take advantage of these extra learning, listening, & performance/practice opportunities both individually and as groups.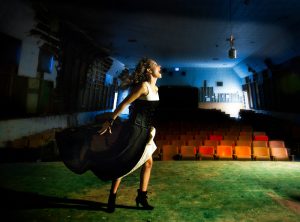 Are you struggling to juggle a hectic, ever-changing kaleidoscope of family scheduling needs? Students & parents are free to cancel & reschedule their lessons whenever needed! A student or their guardian simply logs into the online master calendar, cancels their lesson (freeing the slot for someone else who is also looking for a temporary switch), and picks up any other available open slot that also works with their schedule.
LaVoce Studios operate on an annual tuition-based packages (semester packages are also available).
Standard lesson lengths are 40 minutes for the 2017-2018 school year: ask us about other possible options if this doesn't meet your needs.
Everything You Need to Discover Your Beautiful Voice